NEW DELHI: Even though the share of female students is lowest in institutes of national importance, there has been an overall increase of over 18% in female enrolment in higher education from 2015-16 to 2019-20.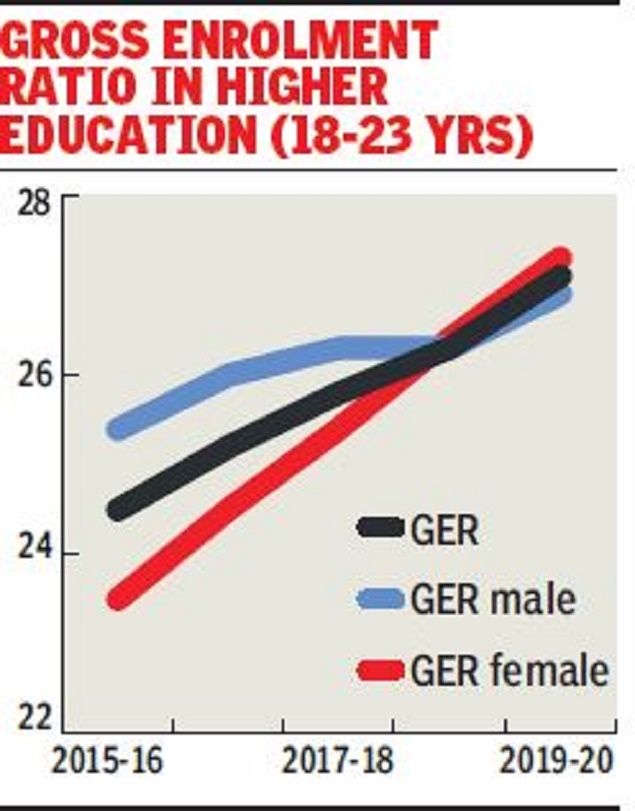 The All India Survey on Higher Education (AISHE) 2019-20 released on Thursday also revealed that apart from more females being enrolled in MPhil, postgraduate and certificate levels, they continue to dominate in medical sciences, BA and BSc programmes. However, it is in the professional and technical courses where female enrolment is significantly lower.

Congratulations!
You have successfully cast your vote
The Gross Enrolment Ratio of females stands at 27.3%, which is better in comparison to that of males 26.9%. The survey also found a very high and sharp increase of female participation at MA, MSc and MCom levels during the last five years.

"In the last five years from 2015-16 to 2019-20, there has been a growth of 11.4% in student enrolment. The rise in female enrolment in higher education during the period is 18.2%. The Gender Parity Index (GPI) in higher education in 2019-20 is 1.01 against 1.00 in 2018-19, indicating an improvement in the relative access to higher education for females of the eligible age group compared to males," the report stated.
As per the report, the number of female students is lowest for institutes under state private open university (2,499) followed by institutes under state legislature act (3,702) whereas the share is highest in state public universities.
"Share of female students is lowest for institutes of national importance (24.7%) followed by deemed universities government (33.4%) and state private universities (34.7%), whereas the share of female students for institutes under State Legislature Act is 61.2%." The percentage of female students in state public universities is 50.1% and in central universities it is 48.1%.

While at master's level for arts, science and commerce there has been a sharp increase in female participation between 2015-16 and 2019-20, "it is still very low at undergraduate courses like BCA, BBA, BTech or BE and LLB".
The percentage share of students enrolled in BA programme is 47.1% for males and 52.9% for females, while BSc has 47.07 lakh students enrolled in total and out of them 52.3% are females. However, BSc (honours) with 54.8% males, MBA (57.4% males) BTech (71.5% males) and BE (71% males) is a different story. But the medical science stream is a picture of female domination, where out of total 13.5 lakh students, females are 8.04 lakh (62.2%).
As indicative of the national figure, a relatively higher share of male enrolment than female enrolment is also seen across the levels in most of the states.
The exception is Uttar Pradesh, with the highest student enrolment in India, has 49.1% male and 50.9% female students and Karnataka where female enrolment is 50.2%.