AMARAVATI: The Polavaram project entered a crucial phase on Wednesday when the irrigation department began work on the spill channel. The original work schedule of the spill channel was revised as the entire downstream of project was inundated due to continuous rains and floods in the project area since last July.
The project contractor firm–Megha Engineering and Infrastructure Limited (Meil)—has deployed heavy machinery at the project site to dewater the flooding area to launch the work. The firm started lifting out the water from November immediately after floods receded in the region by using a large number of pumps.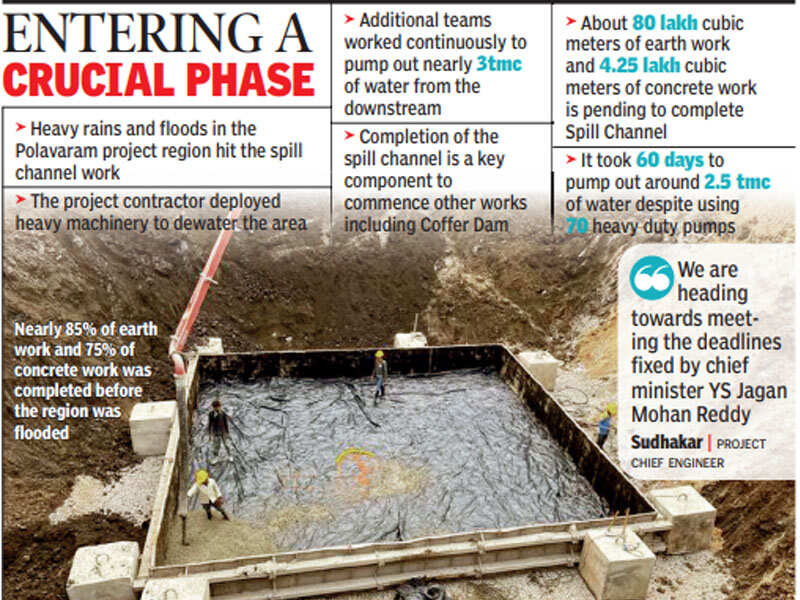 "About 3tmc of water was stored in the area hitting the progress of the work of spill channel. However, we have decided to empty the area by pumping out such huge quantum of water despite knowing that it is not an ordinary issue. The Meil utilised technology along with machinery to pump out water as the commencement of spill channel work is important," said project chief engineer Sudhakar.
The chief engineer explained that it took nearly 60 days to pump out around 2.5 tmc of water despite using 70 heavy duty pumps. He said that they have decided to go ahead with the gravel and concrete filling work as part of construction of spill channel in the area which was completely dried up and found suitable to start concrete work.
Matti Alagan, associate vice-president, Meil said that the dewatering of remaining area would continue till they completely pumped out water from the region.
The completion of about 592 lakh cubic meters of earth work and 18.75 lakh cubic meters of concrete work was part of the total spill channel work. Nearly 85 percent of the earth work and 75 percent of the concrete work was completed before the flooding of the region. "About 80 lakh cubic meters of earth work and 4.25 lakh cubic meters of concrete blocks is yet to be completed," said a senior official. He said that the plans have been readied to finish the balance work without any delay.
Deputy executive engineer Damodaram, AEE Padma Kumar, meil Manager Chandramohan, senior engineer Y Ankamma Rao were present during the puja performed before the launching of the spill channel work.