Secrets To Create A Continuous Learning Culture In Employee Training
Every successful employee training program is founded on a solid learning culture. Employees should have the opportunity to make mistakes, learn from them, and hone their talents at every stage of the journey. So, how do you develop a continuous learning culture to support your remote workforce and overcome emerging challenges? This eBook offers actionable tips for every use case, from onboarding to on-the-go support. Before we dive into the sneak preview, let's look at the traits of effective learning cultures that stand the test of time.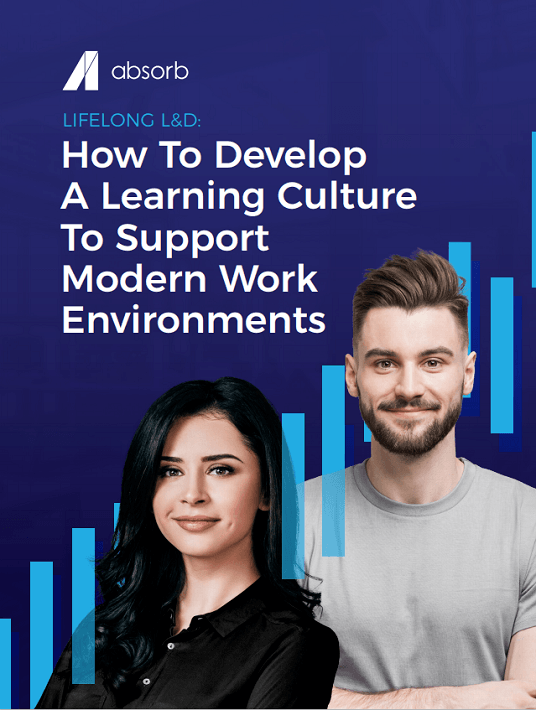 eBook Release
Lifelong L&D: How To Develop A Learning Culture To Support Modern Work Environments
Discover how to cultivate a supportive and collaborative learning culture for your remote workforce!
6 Traits Of A Successful Continuous Learning Culture
Every learning culture is different, as it's always based on organizational objectives and goals. But, there are a few things that thriving cultures have in common. Here are 6 key traits to focus on when developing your L&D framework.
Honors The Individual
Learning culture should create a sense of community. However, you must also honor and respect the needs of individual staffers. What do they expect and require from your organization and its online training program? What are their primary sources of motivation? How can you bring out the best in them while still building better comradery with coworkers? First and foremost, a continuous learning culture prompts them to evaluate their performance and personal gaps without making them feel alienated.
Creates A Feedback Loop
Feedback is essential for long-term growth, but it needs to be a loop that involves mutual exchanges among your team. For example, leaders should be able to give and receive feedback from their departments. In the case of lifelong L&D, feedback is typically in the form of surveys, polls, assessments, and interviews. You can also use more discreet methods, like gamification rewards and in-course levels, to provide immediate feedback.
Reflects Core Values
Every element of your continuous learning culture must reflect your company values, beliefs, and mission statement. For this reason, organizational culture and learning culture often go hand in hand. As an example, your company prides itself on open communication and active collaboration. Thus, these should be your pillars when it's time to develop your continuous learning culture. How can you foster knowledge sharing among your remote workforce? Should you launch an employee-generated library that enables them to upload content for the betterment of their peers?
Empowers Leaders To Pave The Way
Of course, all employees play a vital role in developing a continuous learning culture, but leaders set the tone. They're the ones who must lead by example and highlight the importance of lifelong learning. For instance, they encourage employees to participate in certification courses for upskilling and reskilling. Or maybe they welcome staffer suggestions regarding new additions to the microlearning JIT support library.
Encourages Ongoing Analysis
An L&D manager's work is never done. There's always room for improvement, and that's one of the tell-tale signs of a continuous learning culture. Organizations must always be on the lookout for new and improved ways to cater to employees' needs and fuel personal growth. Evaluate LMS metrics, business reports, and other key data sources to pinpoint emerging gaps. You should also invite employees to do the same at the individual level when it comes to workplace productivity and performance. For example, they can participate in qualitative evaluations, like simulations and scenarios, to spot areas for improvement.
Provides Accessible Support
Staffers may uncover knowledge, skill, and performance weaknesses at the most inopportune times. It's an organization's responsibility to offer them personalized support that's easily accessible and consumable; for example, a bite-sized training repository to help them quickly complete tasks without cutting corners. Another source of support is peer coaching. They can call on their coworkers for on-the-spot insights to avoid common mistakes and boost productivity. Even a social media group or message board may be enough to fill in the blanks.
About This eBook
This guide doesn't just give you a high-level overview of developing a continuous learning culture, it provides tips and techniques you can apply in your own organization. Here's a brief glimpse of what you'll find inside:
Unlock Elevated Learning Experiences With Employee Training Software
Reinvent New Hire Onboarding: Learning's First Impression
Evolve Reskilling And Upskilling To Meet Modern Needs
Mobile Learning: Delivering Adaptable Learning Experiences
Learning Advocates: How Leaders Can Make Or Break Your Learning Culture
Take Corporate Learning To The Next Level With Artificial Intelligence
Using LMS Analytics To Gain Learning Culture Insights
Rise To The Challenge: Creating A Continuous Learning Culture
This is an essential read for L&D and HR managers looking for innovative ways to deliver adaptable, accessible, and engaging training to their remote work teams. It offers a practical look at how to use modern technology and ID methodologies to bring your employee development program to new heights.
Conclusion
How do you weave the culture into every aspect of employee development to spark meaningful change? Download the eBook Lifelong L&D: How To Develop A Learning Culture To Support Modern Work Environments for more insights to cultivate a culture that fosters lifelong learning.