"Knowledge is Power."
– Sir Francis Bacon.
EuroSchool is powering knowledge with ARGUS!
EuroSchool's proprietary digital learning ecosystem enables delivery of Blended Learning which is the future of school education!
The COVID-19 pandemic has been a game-changer for industries and service delivery across the board. The nationwide lockdown in India led to the closure of schools across India. While some schools took months to migrate onto digital learning, the transition to virtual schooling was made seamlessly by EuroSchool within one week. This can be attributed to investments in digital learning platform ARGUS – launched 3 years ago by the management. Once the lockdown was announced, the team fast-tracked upgrades to ARGUS and put together a complete 'Blended Learning' offering enabling students, teachers and parents to collaborate on the same platform and allowing online learning, evaluation, and learning analytics.
EuroSchool's dedicated curriculum research team, Cerebrum, had already devised the LRPAX (Learn-Reinforce-Practice-Apply-Xperience) methodology, which is the backbone of ARGUS. This enhances the classroom experience and assists students in exploring and unlocking their latent potential through an array of academic and non-academic clubs, programs and competitions. But schools were shut and the students' learning experiences were at stake, so learning had to find a new way.
Congratulations!
You have successfully cast your vote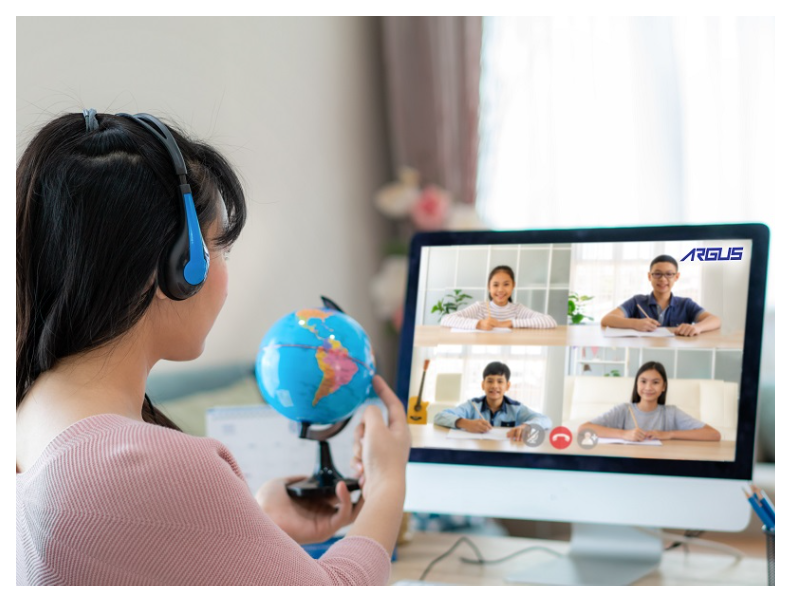 EuroSchool filled that gap with a platform to connect students to the future of learning. Blended Learning is a unique education style that combines online (digital) and offline (face-to-face) teaching. The COVID-19 pandemic-related lockdown presented an excellent opportunity to test this.
ARGUS – The Digital Learning Ecosystem
EuroSchool's commitment to creating lifelong learners encourages its core team to continuously reinvent education.
An effort to leverage technology as an enabler to power learning and transform the way knowledge is imparted led to the creation of ARGUS.
Designed by expert educators, academicians, and researchers from the Cerebrum team, this cutting-edge virtual platform takes learning beyond the classroom by personalising learning for each child based on their learning style. It provides a self-paced schedule that enables children to take ownership of their learning by allowing them to learn anytime and anywhere and get real-time remedial action too.
ARGUS is designed to empower EuroSchoolers!
The tech-powered academic experience seamlessly integrates EuroSchool's LRPAX methodology.
ARGUS empowers EuroSchoolers to:
A. Learn through interactive digital books and live video classes
B. Reinforce their learning and ensures complete understanding through video courses, revise concepts learned through real-life connect videos for revisions & remedial courses
C. Practice to achieve mastery through multiple tests, worksheets, online quizzes with personalised feedback
D. Apply their learning by engaging in activities and watching application videos
E. Xperience their learning through participation in Capstone projects, and individual and group projects that drive peer collaboration & networking
Assess their learning outcome through structured online examinations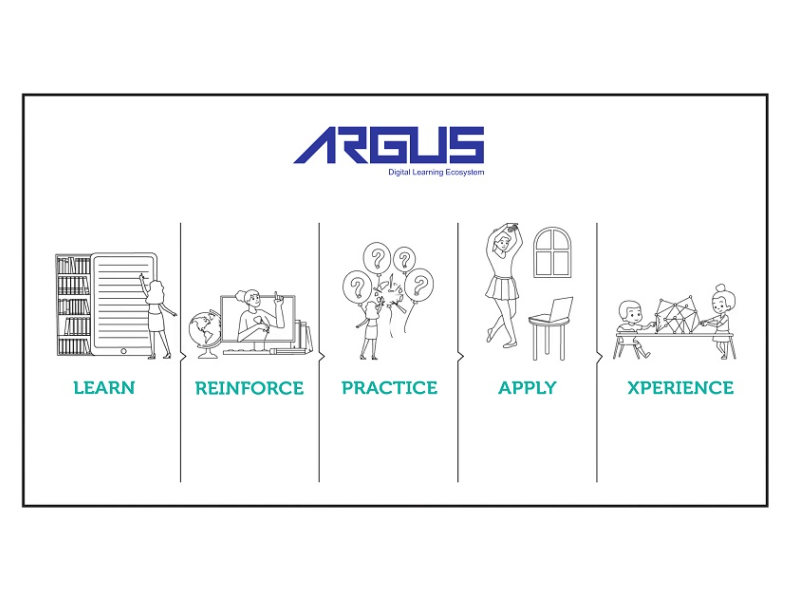 Parents as partners in learning with ARGUS:
ARGUS has enabled EuroSchool to create a healthy ecosystem that brings the three stakeholders – students, parents and teachers together on the same platform.
With parents busy at work, the probability of missing out on their child's daily/weekly/monthly progress is high. ARGUS bridges this gap by allowing parents to be more involved in their child's school life. Parents get login IDs and passwords to track their child's progress, strengths and capabilities through real-time, detailed performance analysis through the ARGUS App. The App also gives access to scans of actual corrected papers to the parents.
ARGUS' Teaching Ecosystem:
EuroSchool believes that to educate new-age learners, teachers must first become new-age learners. And this is precisely what ARGUS does. It empowers the teachers' journey of becoming digitally enabled educators as it allows them to explore the world of blended teaching and integrates them into digital pedagogy.
Teachers are provided with detailed records of students' tests and performance. Using analytical tools, they can chart the students' performance patterns and make custom lesson plans. Since they are now aware of the learning process, they can also resolve students' queries and give them personalised feedback. They can also loop in the parents and share real-time feedback and reports with them.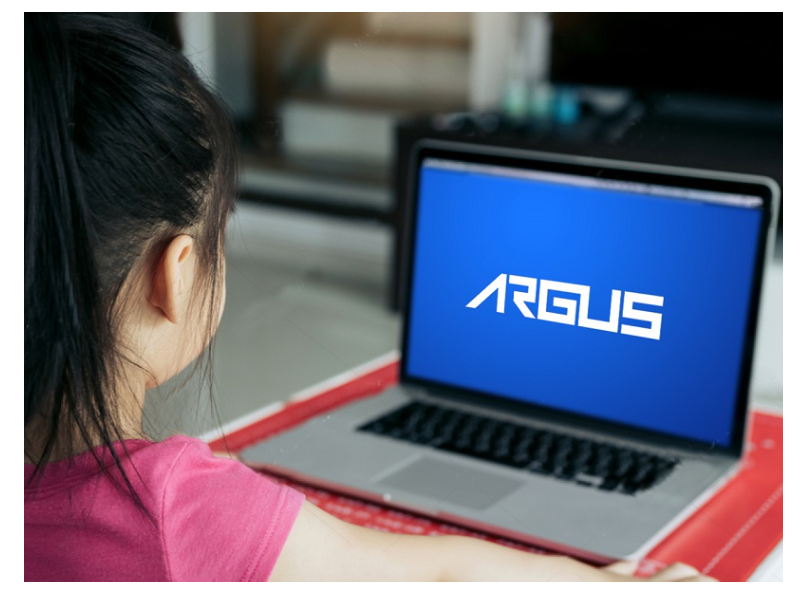 The ARGUS Advantage—making all work and all play possible!
ARGUS makes learning fun with interactive and engaging content while personalising academics through assessments, live sessions, and more. This structured delivery of learning modules and methodologies is the result of the integration of EuroSchool's multifaceted curriculum.
ARGUS is in sync with the 4C's of 21st Century learning skills–Critical thinking, Creativity, Collaboration, and Communication; 7E Instruction Design Principle–Engage, Explain, Elaborate, Explore, Evaluate, Extend and Experience and Bloom's Taxonomy.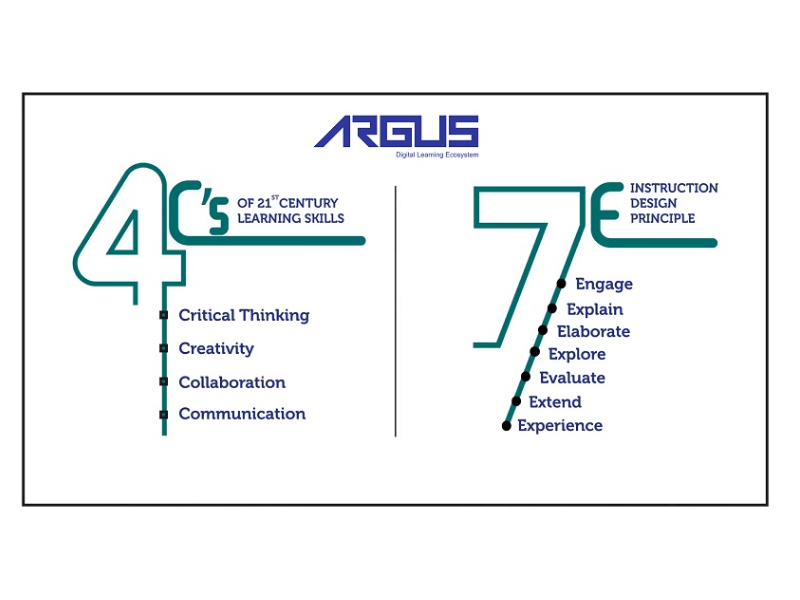 The attributes of ARGUS and its ability to support Blended Learning make it an academic experience that strengthens learning, and creates next-gen problem-solvers, and motivated lifelong learners.
The ARGUS App is available on all platforms – Android, iOS, and the Web.
Disclaimer: Content Produced by Euro Group