After almost six months of inactivity due to the lockdown, the light engineers of Chandannagar are finally back in action, beating the
pandemic blues
with innovative lighting ideas picked straight from national news. From remembering
late actor Sushant Singh Rajput
, creating social awareness during the corona period to paying respect to frontline warriors, this year's light arrangements will see innovations that touched our lives in recent times.
Homage to Sushant Singh Rajput
At veteran lighting designer Babu Pal's worshop, workers seemed busy perforating plates on a huge Sushant Singh Rajput stencil. "We perforate and put LED lights in it before colouring the plate and polishing it with varnish. Right now, we are working on Park Street's illumination project by the government," said Babu. But why
SSR
, we ask. "We got an order from
a popular Puja organiser in Chandannagar. They wanted to pay tribute to the late actor through our lightings," he said. When contacted, Nirmal Kumar Das of the Puja committee said, "We all are pained by the untimely death of the young actor. We are not interested in the controversy that is taking place with regards to his death right now. We just
want to remember him fondly and hope his soul rests in peace."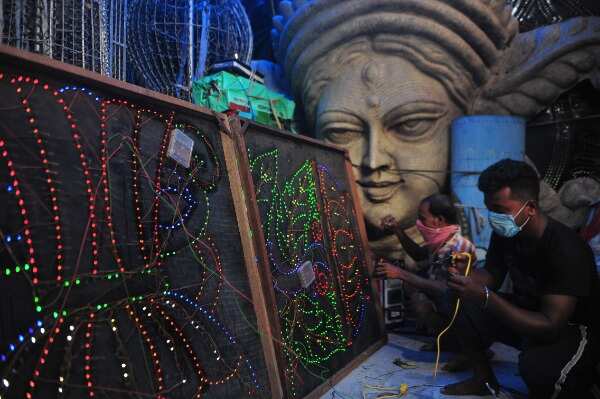 Covid is the new theme
Elaborating on his projects, Babu added that they have just started getting confirmations of orders. "Till recently, we thought there would be no orders this year. Then, I got a call from the CM office. We are focusing on frontline workers, like doctors, nurses, policemen, civic workers, journalists and firefighters, who served us relentlessly all through the lockdown. We will pay respect to them through light arrangements. To add to the celebratory spirit, we will also make lightings of Ma Durga and her children — everyone wearing masks," said Babu, who is also working on other Puja assignments, including Sreebhumi, Mysore Palace, Karnataka, and Mukherjee Barir Puja in Murshidabad.
Encouraging people to sanitise hands
Babu is not the only one. Other light artisans have also received orders to depict the Covid-19 situation. Manoj Saha, an artisan, said, "I am working on a pandal gate in Asansol that will depict the importance of sanitiser. There are other lightings to create awareness in the pandemic situation."
Explaining about the project, Debashish Majhi, one of the Puja committee members, said, "This is to help us manage the crowd. The lighting will convey the message of social distancing, sanitisation and other elements of basic hygiene."
Some other lightings will focus on encouraging people to wear masks. Artisan Habul Chatterjee said, "We are working on awareness banners, like 'No mask, no entry'. We barely have any order now. Hence, we could not work on any theme. We have to make do with whatever we've got."
Plummeting market and hope
Evidently, the business has taken a nosedive in this pandemic. "Out of 100, only four to five contractors managed to get some orders. But that is nothing. Earlier, we used to close orders by May. By this time, we used to work on five-six projects. This year, we have just started getting orders and I am working on only two. Earlier, about 30-40 labourers used to work with me. This year, I could not employ more than 12 people so far. The light labourers across Chandannagar have started other businesses, like selling chicken, fish or delivering groceries," said Kashinath Das, who is currently working on a project from Beleghata Rashmani Bazar Puja.