PUNE: Pune Knowledge Cluster and the Serum Institute of India will conduct a short virtual course on basics of vaccine production to provide an industry perspective for basic academic knowledge that candidates have with real life setbacks and pitfalls.
The lecture series will have a total of 10 lectures of 60 mins duration each which will include questions and answers sessions. The number of participants will be limited. The course starts on January 15, the last date for online application is January 5 and the candidates will get confirmation of selection by January 11.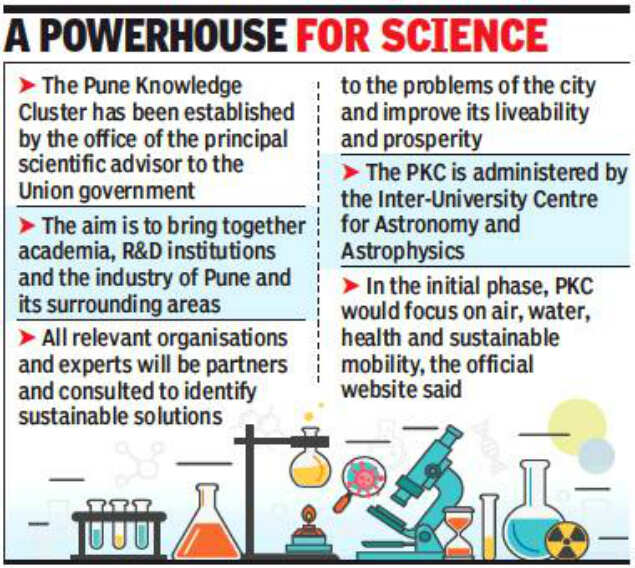 "Vaccines help boost an individual's defence against infections and significantly reduce the risk of getting a disease. Designing, producing and distributing a vaccine, however, is a hard and arduous task. The course contents will enlighten the participants with basic knowledge of the process of designing and producing a vaccine. It will also focus on various aspects of vaccine production, including critical thinking and problem-solving. The course is designed for doctoral students, post-doctoral fellows, young investigators from industry and academia, research/science managers in and around Pune," the official notification said.
PKC's functioning is facilitated by the office of the director of IUCAA, Somak Raychaudhury. "There are various verticals like short-term projects, internships and capacity building that the PKC will work on. We wanted to start a series of short courses and this is the first one in the series under the capacity building vertical. Our focus is on industry academic interaction and collaboration," Raychoudhary said.
The principal investigators of PKC are Ajit Kembhavi and L S Shashidhara. Kembhavi said all the 10 experts in the first short course are experts from Serum Institute. Surendra Ghaskadbi is heading the capacity building vertical under which this programme is set.
"We are setting up 4-5 courses.Serum Institute has many experts but they don't get time to interact with students and academicians but industry perspective is totally different. We are bridging the gap through these lectures," Kembhavi said.