Rapid eLearning Program Time-Saving Tips
While SMEs play an important role in L&D, L&D is neither their primary responsibility nor are they a formal part of it. Most SMEs are traditionalists who resist the change in training format toward online training. SMEs have a wealth of information and often insist on including all that information in the eLearning course – blurring the lines between 'need-to-know' and 'nice-to-know' information. For them, every bit of it is equally important and they are reluctant to trim the content to make it suitable for eLearning.
So, what can you do to get your subject matter experts on board for eLearning? How can you bridge the gap between the differing expectations of SMEs and the L&D team?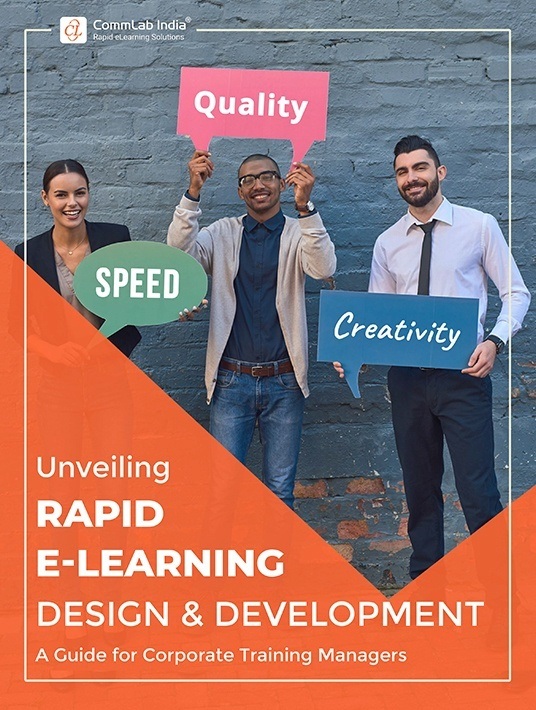 eBook Release
Unveiling Rapid eLearning Design And Development – A Guide For Corporate Training Managers
Discover what rapid eLearning is, how to align it with your business goals, and which tools you need for the task!
Best Rapid eLearning Practices To Save SMEs' Time
1. Plan For eLearning Curriculums Instead Of Standalone Courses
When you opt for standalone courses spaced over a period of time, the SME's work gets multiplied, repetitive, and longer. Each time a course has to be rolled out, the subject matter expert has to go through the same motions of reviewing the primary course content, filling gaps, approving templates, storyboards and prototypes, and reviewing the final course. But if you plan for a curriculum right at the start, this process needs to be carried out only once.
You can standardize different design aspects of the eLearning course and get your SMEs inputs/approval on:
Terminology, content gaps
Interactivities (complex processes might need SME help for chunking and/or visualization)
Assessments/scenarios, if the topic is complex or proprietary
2. Involve SMEs In The Planning Phase Of eLearning Design
SME expertise is required right from the initial planning through to the development of rapid eLearning. So, involve them in the initial kickoff meeting with stakeholders to ensure clarity on learning goals and training expectations, with no room for confusion and rework at a later stage
SMEs:
Agree on the timelines for reviews
Become familiar with the tool which will be used to review courses (if it's an online tool)
Get to know the team working on the project and whom to contact if needed
3. Familiarize SMEs With The Design And Development Process Of Rapid eLearning
Most SMEs are quite possessive about their training content. They are also skeptical of any training format other than classroom training, more so rapid eLearning. This problem can be easily resolved by acquainting SMEs with the design and development process early on.  You can educate them on:
Adult learning principles
How learner engagement can be integrated for effective training
Prioritizing need-to-know information over nice-to-know knowledge
Possibilities and limitations of using authoring tools
2 Bonus Tips
1. From The Mic To Microlearning
If the SME has a PowerPoint deck (~10 slides) on a topic, we have a 5-step quick-and-dirty method to develop a microlearning video – where the SME is involved only at 3 points.
The SME provides a recording where he/she is talking through the slides.
The slides and the recording are enhanced instructionally by the eLearning vendor, who will also incorporate appropriate graphics, transcribe the audio, and streamline the transcript.
The enriched slide deck and edited transcript are sent to the SME for a quick review.
The eLearning vendor produces a voice-over video using the enhanced slides with a professional narrator reading the streamlined script.
The SME reviews and signs off on the video.
2. Use Online Review Tools
Reviewing storyboards in MS Word or PowerPoint and sharing feedback via email is a huge turn off for SMEs. Most rapid eLearning authoring tools have online review apps en-suite – Articulate Review 360, Adobe Captivate Reviewer, and Trivantis ReviewLink. These review tools help in:
Easy collaboration among multiple SMEs and resolving conflicting feedback
Having all SME feedback and reviews in one place
Easy review once the feedback is implemented
In case your authoring tool doesn't have a built-in review app, you can use external eLearning review tools like Review My eLearning.
Conclusion
While getting SMEs involved in eLearning development can be a bit of a struggle, you cannot do without them. And the only way you can get them on the digital training wagon and earn their approval is to acknowledge their importance, appreciate their contribution to training, and most importantly, avoid wasting their time. And there is no better way than rapid eLearning to do this!
Want to learn more about how to use rapid authoring software to develop top notch content? Download the eBook Unveiling Rapid eLearning Design And Development – A Guide For Corporate Training Managers to find the right tools and ID strategies to launch a rapid eLearning development program today. You can also join the webinar to master the essentials of high-impact learning for your teams.
References: